Never seen Roman ruins? Visit Caesarea!
Caesarea is located on the Israeli coast of the Mediterranean, north of Tel Aviv. Now ruins, it once was a splendid, classical Roman city. You may think how come Roman ruins near Tel Aviv? Read on to learn a fascinating history of the place.
This is my very first post on TravelFeed, so let me first introduce myself briefly. My name is Marcin. I have had an opportunity to see a bit of the world and will share bits from countries as far from home as Japan and Australia (see my post on Publish0x, on Mt. Kosciuszko)
I am passionate about mountains and hiking and will share my trips here. Most of them in my home country - Poland (you may want to read my recent post on Stone Town, also posted on Publish0x). I run a travel blog (in Polish, but there's a google translate widget).
In my first post here, I have decided to take you for a trip in time. Let's visit Roman ruins in Caesarea, Israel.
We need to go back in time to the first century BC. The Roman Empire has only recently expanded into the Middle East. They rule both Egypt and Syria. In between them, there's the strategic land of today's Israel, then a collection of smaller states. One of them is Judea, ruled by Herod the Great. Yes, THIS Herod, the one you might know from the Gospels. He is not a fairy tale character to scary unruly children. Herod was a historical ruler who had to maneuver between his people, Greek expats and expanding Rome. He chose to befriend the Romans and rule on their mandate. Being both fascinated by the Roman culture and wanting to impress the Caesar, Herod built a port city to a classical Roman design and name it - how else? - Caesarea.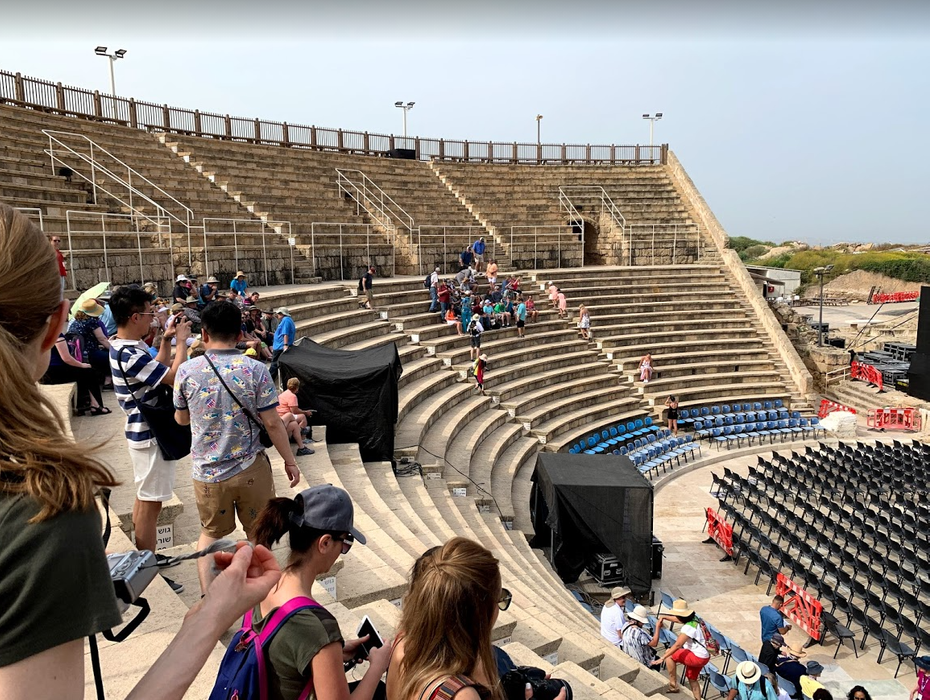 The city was complete with all essential Roman buildings: a theater, a hippodrome, public baths etc. Plus Herod built a splendid palace for himself. To make it all viable, an artificial port was built.
The open air theater (aka amphitheater) you see above looks pretty modern - sound system, lamps etc. Don't be fooled by the technology, the building itself is more than 2000 years old and as you can see, it still serves its original purpose. Back when Herod built it, it had a moving roof that could be covered or uncovered on demand. See below how it once looked.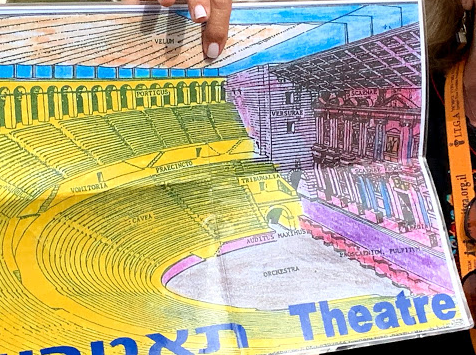 Let's now discuss the port. As seen on image, the port would enclose an artificial bay with concrete wave breakers. Herod's engineers used an interesting technique to build the foundations of the port. They sunk wooden boxes filled with volcanic ashes. In contact with salty water, the ashes solidified and created... concrete. Although the port doesn't exist today, the foundations are still visible under shallow waters near the coast.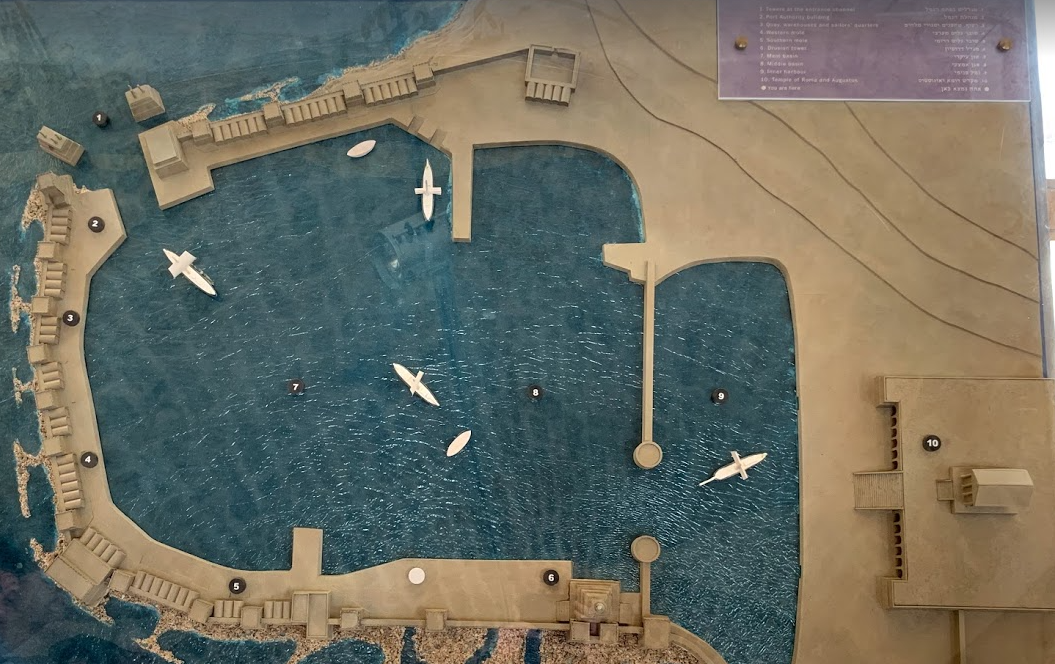 A Roman town could not do without public baths and toilets. The toilets had running water to wash the dump away and I think they were cleaner than many contemporary public toilets, which often store the waste underneath. If clean toilets were not enough, the baths had floor heating. Let's examine how they worked.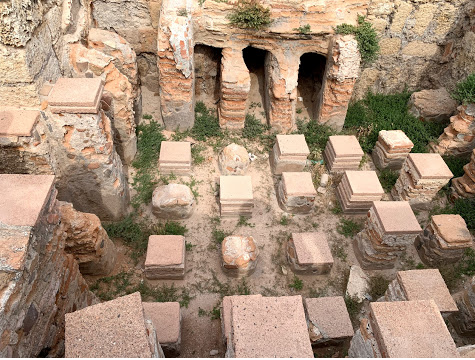 The three openings in the far end of the picture were where hot air from a furnace would enter. The pillars in the middle would have been covered with ceramic floor, thus the hot air circulated under the floor. The ceramics are good conductors of warmth and so the air underneath would heat the room. Add steam and here's your sauna Roman-style.
Another Roman essential was a hippodrome. Well, think horse racing. The difference was they would race in light carriages, called chariots, drawn by two or four horses rather than ride on horse back. The hippodrome has survived in quite a good shape until our times. It was cleverly designed with the central axis skewed a bit (not parallel to the sides), to allow turning with high speed (think how centrifugal force would act)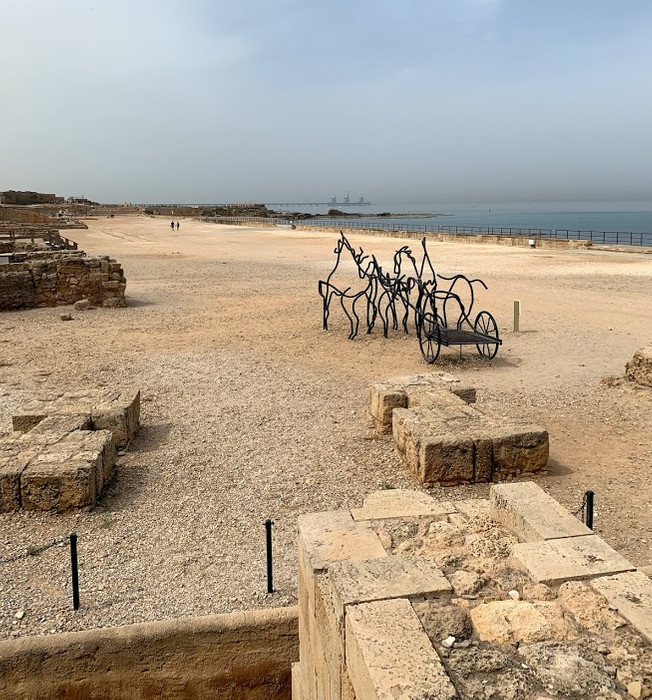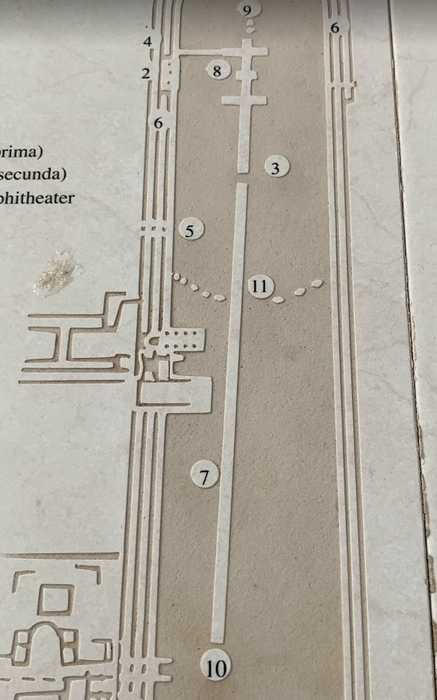 Finally let's have a look at Herod's own palace. Not much of it has remained, but if we just see Herod's private bathtub, we can imagine the rest. Herod knew how to live with style.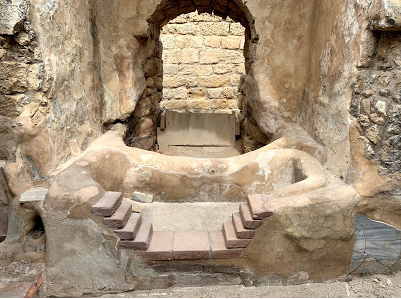 The story doesn't end there. After Herod, his sons were not able to maintain his domain and Romans took direct control of Judea and Caesarea Maritima (coastal Caesarea) became their capital. Later it served as a port during Byzantine rule, suffered in an earthquake and several sieges, centuries later briefly was a fortress of the crusaders and finally went into oblivion. Unearthed by archeologists, it is now a window into times long since gone. We can have a peak how Roman elite lived 2000 years ago.
Caesarea is conveniently located by the coastal highway that links Tel Aviv with Haifa. Less then one hour drive from Tel Aviv, it is definitely worth visiting. Allow half a day, including commute. For prices, opening hours and more information, check the web page of Caesarea National Park. It's not the obvious place to visit in Israel, but Roman ruins in Caesarea should be added to visitors' itinerary.