[EN] Stephanie who runs the BudgetBucketList blog briefly visited Poland in June. I played the host part. We used one day for a hike in the Tatras and another was a pleasant stroll in the Gorce Mts..This article tells the story about our hike in the Tatras and a caveman that wasn't...
[PL] Stephanie, autorka bloga BudgetBucketList odwiedziła Polskę w czerwcu. Pełniłem honory gospodarza. Pierwszego dnia wybraliśmy się w Tatry, drugi to przyjemny spacer w Gorcach. W tym artykule przeczytacie o naszej wędrówce w Tatrach i o tym jak wolę chodzić po górach niż czołgać się po jaskiniach.
Bad Weather Changes Plans
[EN] I usually start my mountain trips early. However, Sunday, June 13 greeted us with torrential rains and strong winds. We had planned some serious hike in the Tatras. However, it was obvious I had to revise the plans.
[PL] Moje górskie wędrówki zwykle zaczynają się rano. Niestety, niedziela 13 czerwca powitała nas ulewnym deszczem i silnym wiatrem. Planowałem poważną trasę w Tatrach Zachodnich, ale stało się jasne, że trzeba zrewidować plany.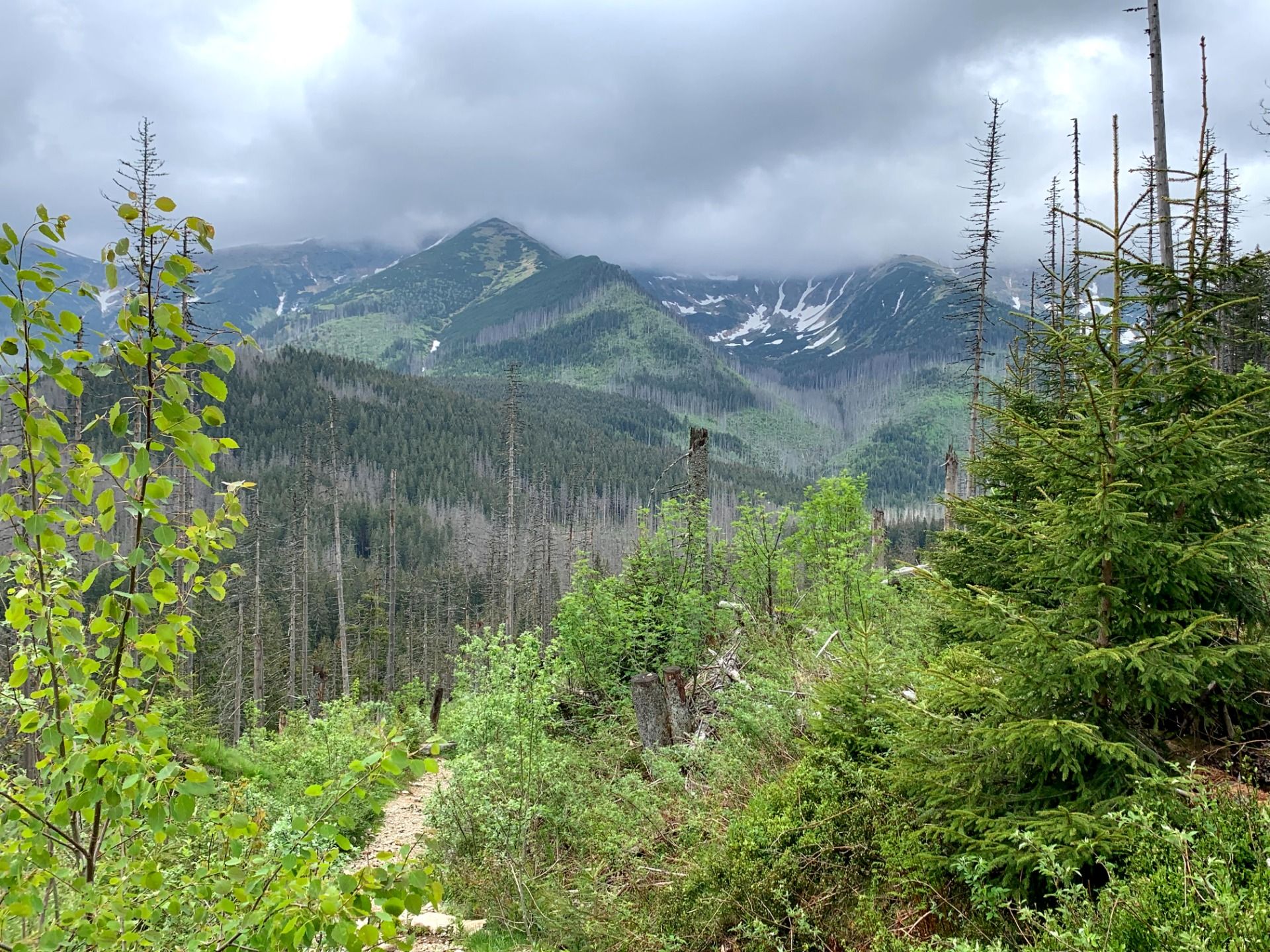 [EN] We started late and my revised plan was to take it easy and safe. So we hiked along the Chochołowska Valley, crossed the Iwaniacka Pass and went back down the Kościeliska Valley. As much as I had an appetite for higher parts, safety comes first.
[PL] Wyruszyliśmy późno i mój zmieniony plan zakładał lekkie i bezpieczne przejście Doliny Chochołowskiej, Przełęcz Iwaniacką i Powrót Doliną Kościeliską. Miałem oczywiście apetyt na więcej, ale liczy się przede wszystkim bezpieczeństwo.
Stroll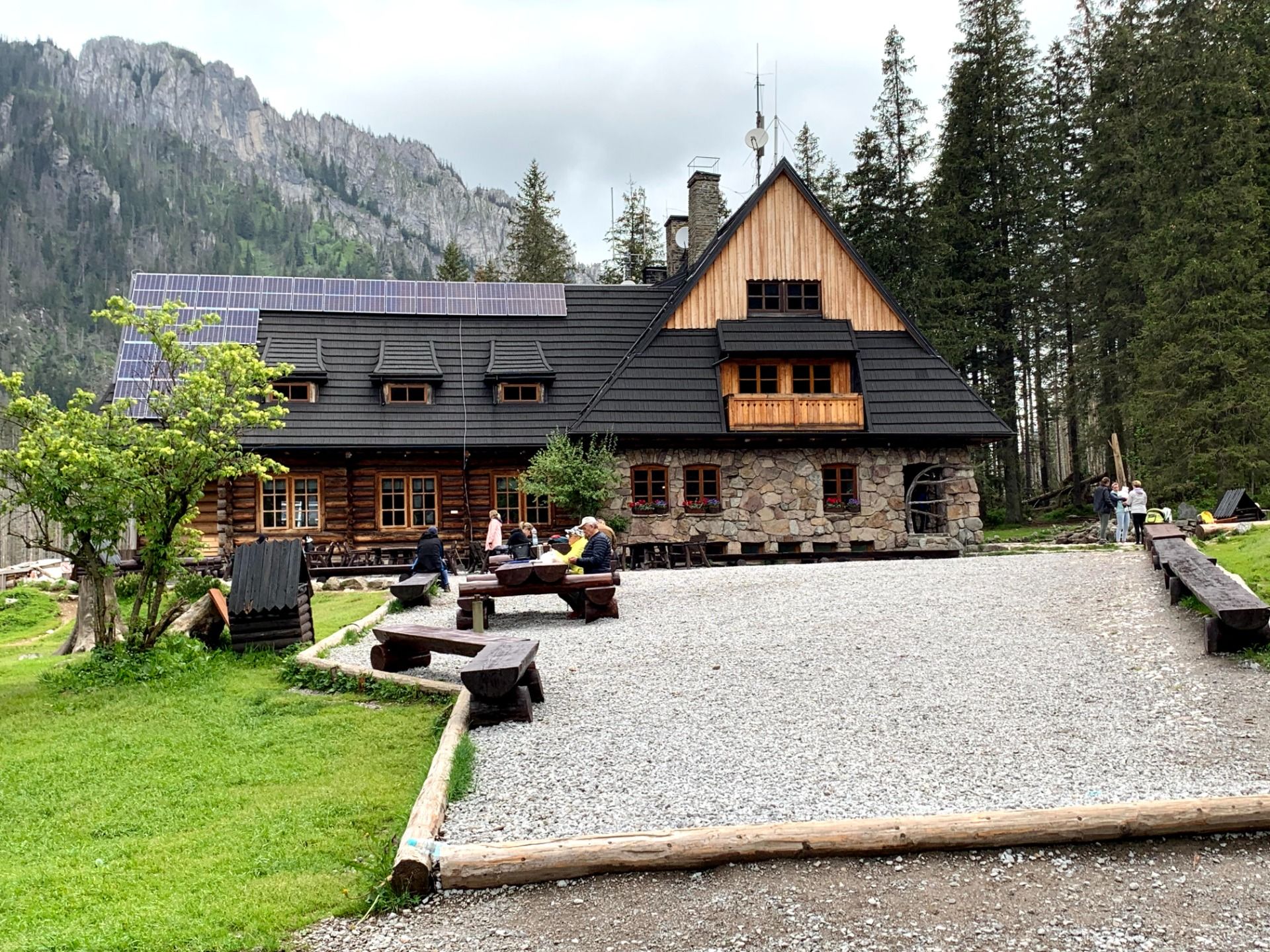 [EN] By the time we reached the Chochołowska Valley, the rains had subsided, however the wind was still quite strong. We went up to reach the Iwaniacka Pass (1460m) - the highest point of our hike. Quite pleasant stroll, as we were protected from winds there. On the other side of the pass, we descended to Hala Ornak, where we took a lunch break in a Mountain Hut.
[PL] Kiedy dotarliśmy do Doliny Chochołowskiej, deszcz ustał, ale ciągle wiał mocny wiatr. Poszliśmy w głąb doliny by następnie skręcić w kierunku Przełęczy Iwaniackiej (1460m). Wspinaczka była przyjemna, bo las osłaniał nas przed wiatrem. Po drugiej stronie przełęczy zeszliśmy do schroniska na Hali Ornak. Tam też zrobiliśmy sobie przerwę na lunch.
[EN] Going down the Kościeliska Valley there are two caves on the left. I had never visited them before so we decided to go there. The first one is just a deep hole in the ground. Stephanie went down there to check. The second one, however, called Mylna ("misleading"), is cave in the true sense meaning of the word.
[PL] Idąc w dół Doliny Kościeliśkiej mamy po lewej stronie dwie jaskinie, Raptawicką i Mylną. Ta pierwsza to po prostu dziura w ziemi, można tam zejść po metalowej drabince. Druga natomiast to jaskinia z prawdziwego zdarzenia.
The Cave
[EN] The approach to both caves is some serious climbing. The more difficult parts are secured with chains bolted into the rocks. The trail goes steeply up and leads into the cave entrance. It then goes thru the cave to emerge on its  other side.
[PL] Podejście pod obie jaskinie jest bardzo strome. Miejscami są łańcuchy zabezpieczające. Szlak prowadzi prosto do wejścia do jaskini, przechodzi przez nią by wyjść po jej drugiej stronie na światło dzienne.
[EN] Mylna in Polish means "misleading". The cave is a maze of corridors. It is therefore important to follow the trail. Initially it is easy. There's enough headroom and there are openings that provide day light. Later, however, it becomes difficult. One is supposed to crawl thru narrow, dark and wet corridor. This where I gave up. Stephanie wanted to push thru, but it was well beyond my comfort zone and I backtracked... So a caveman that wasn't...
[PL] Jaskinia Mylna ma wiele odnóg i ślepych korytarzy. Należy zatem poruszać się po wyznaczonym szlaku. Na początku jest łatwo, wystarczy lekko się pochylić. Dodatkowe wejścia dostarczają światło dzienne. Ale później szlak prowadzi bardzo wąskim, ciemnym i mokrym korytarzem, przez który należy się przeczołgać. Stephanie chciała iść dalej, ale ja się poddałem i wycofałem. Wolę chodzić po górach niż czołgać się po jaskiniach...
Good Weather Too Late
[EN] As we came back to the Kościeliska Valley, we noticed that the weather had improved. No more rain, clouds almost gone. Unfortunately it was already late in the day and we needed to go back. We enjoyed the stroll down to our parking lot and idyllic pastoral views.
[PL] Po powrocie do Doliny Kościeliskiej zauważyliśmy, że pogoda znacznie się poprawiła. Przestało wiać i wreszcie było widać błękitne niebo. Niestety było już późno i trzeba było wracać na parking. Ostatnia część wędrówki była bardzo przyjemna. Po drodze mieliśmy idylliczne, pasterskie widoki.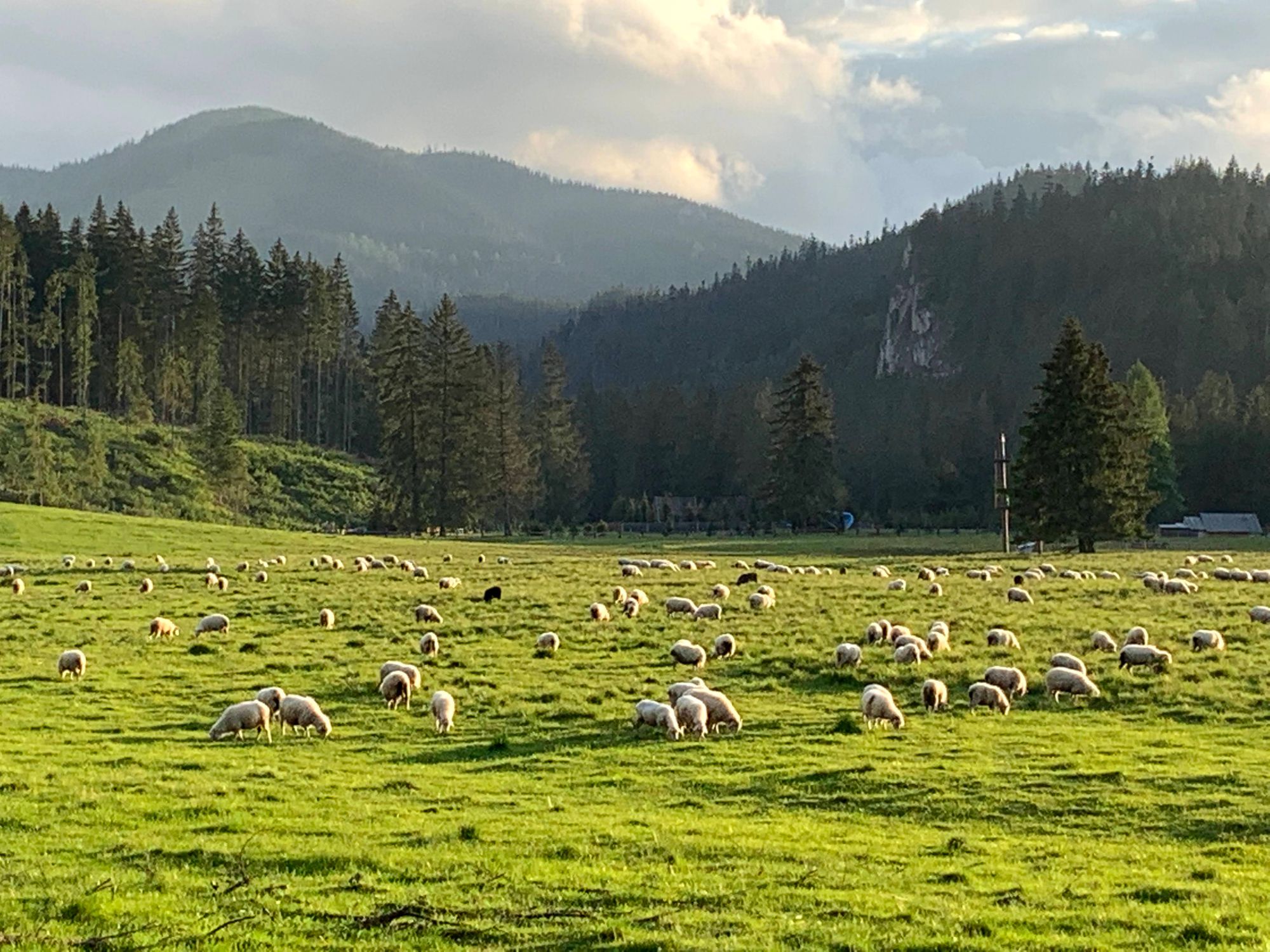 [EN] So a caveman that wasn't... I knew Staphanie would like go continue down the cave and I chickened out. She showed a true mountaineer spirit by returning with me - we go together, we come back together. Bedankt, Steph!
[PL] Tak się skończyła moja przygoda niedoszłego jaskiniowca. Wiedziałem, że Stephanie chciała iść dalej a ja po prostu wycofałem się. Stephanie pokazała jednak prawdziwy górski charakter - idziemy razem, wracamy razem. Bedankt, Steph!