[ES] En la primera parte de "Mis Paseos por Bilbao" he escrito un poco sobre la historia de Bilbao. Os mostré el Casco Viejo y la zona alrededor del Museo Guggenheim. El segundo artículo describió dos monumentos de técnica – el Funicular de Artxanda y el Puente de Vizcaya. En la tercera y final parte, os voy a llevar a unos otros lugares de Bilbao.
[EN] In the first part of "My Bilbao Walks" I have written a bit on Bilbao history. I showed Casco Viejo (the Old Town) and the area around the Guggenheim Museum. The second part was devoted to  technical advancements - Funicular de Artxanda and el Puente de Vizcaya. The third and final post will take you to some other places in Bilbao
La Gran Vía
[ES] Bilbao está a travesado por el río Nervión, que hace unos meandros entre las colinas. La Gran Vía de don Diego López de Haro es un ´diámetro´ de uno de los meandros. La calle conecta dos puntos cerca del río – Abando y San Mames. Su punto central es la Plaza Moyua. Entre la vía y el río se encuentra la renovada parte de Bilbao. Allí está el Museo Guggenheim, algunas parques y jardines, la torre de Iberdrola, la universidad y otros muchos lugares agradables.
[EN] Bilbao is on the river Nervión, which meanders between hills. 'La Gran Vía de don Diego López de Haro' makes an diameter of one the bends. The street connects two points on the river - Abando and San Mames. Its central point is the Moyua square. Between the street and the river you will find a renovated part of Bilbao. It is where the Guggenheim Museum, some parks and gardens, the Iberdrola tower, the university and many more pleasant places are located.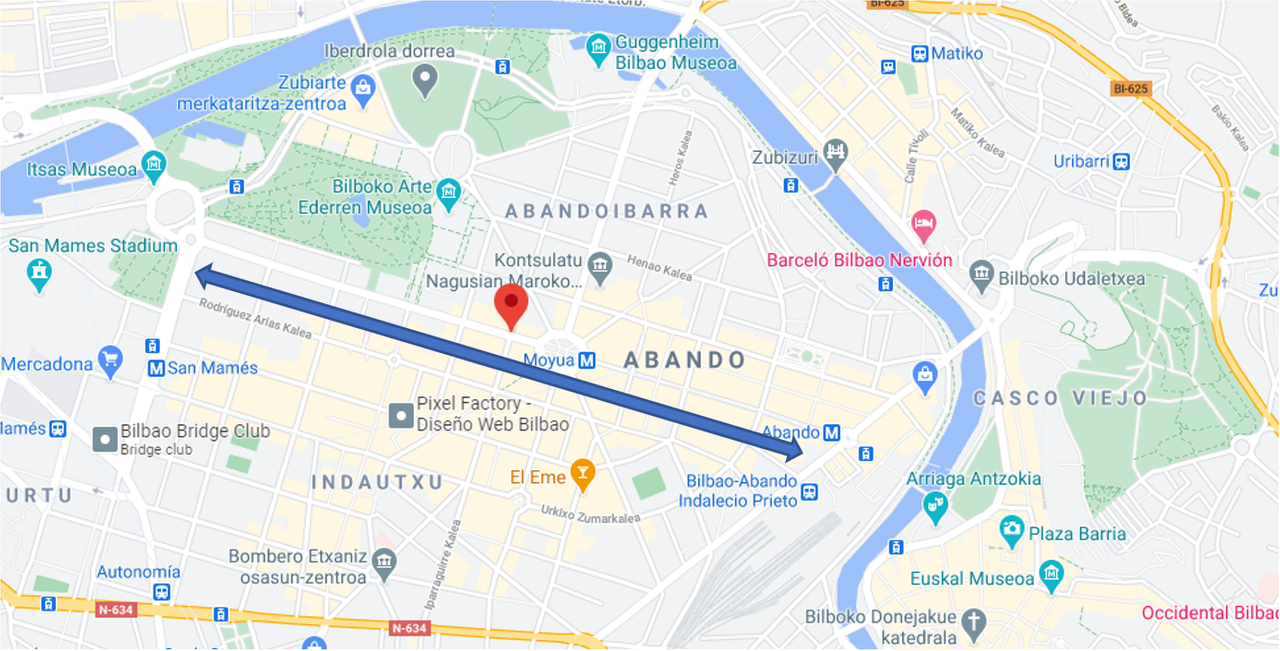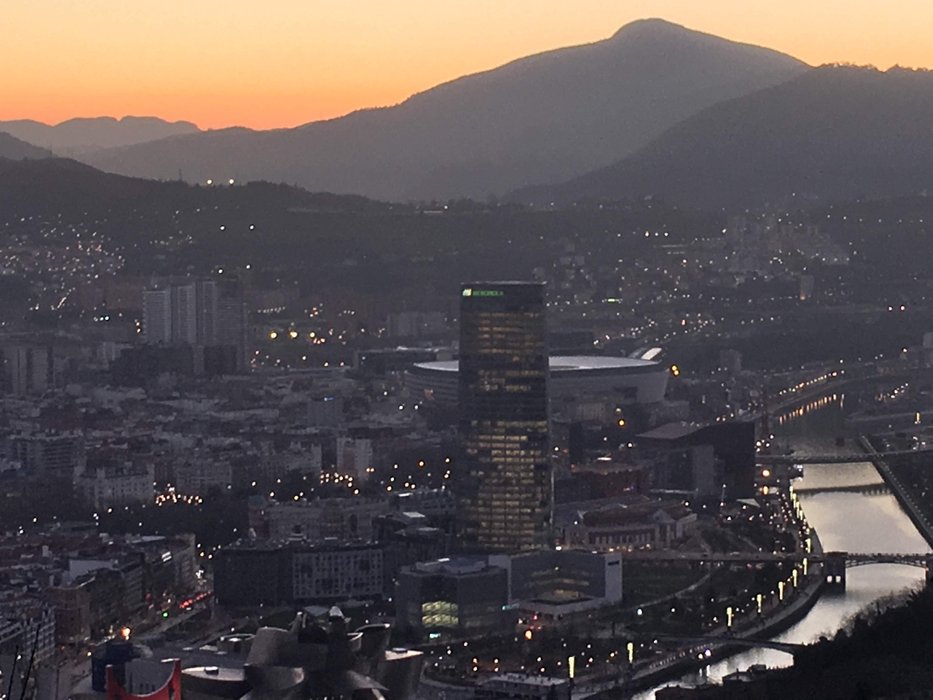 [ES] La Gran Vía es la principal calle de la parte nueva de Bilbao. Es muy amplia y muestra muchos edificios grandiosos. Por ejemplo, el edificio de la provincia de Vizcaya, algunos bancos, centros comerciales y casas grandes de clase alta. Todos los edificios son de finales del siglo XIX y principios del XX. Su arquitectura es ecléctica o modernista.
[EN] Gran Via is the main street of the new part of Bilbao. It is very wide and shows many great buildings. For example, the seat of the government of the Vizcaya province, some banks, shopping centers and big houses of the upper classes. All the buildings were built in late XIX to early  XX centuries.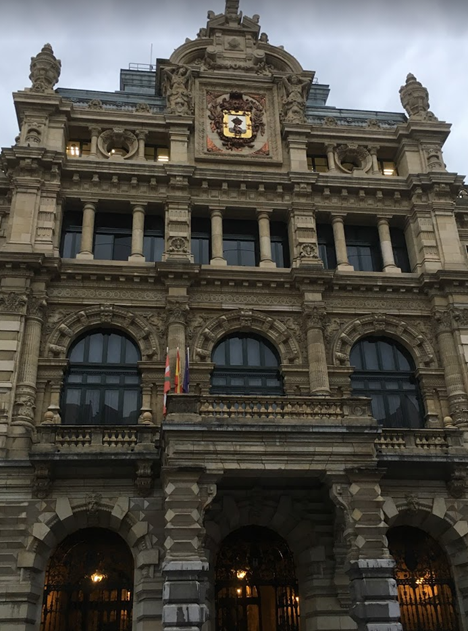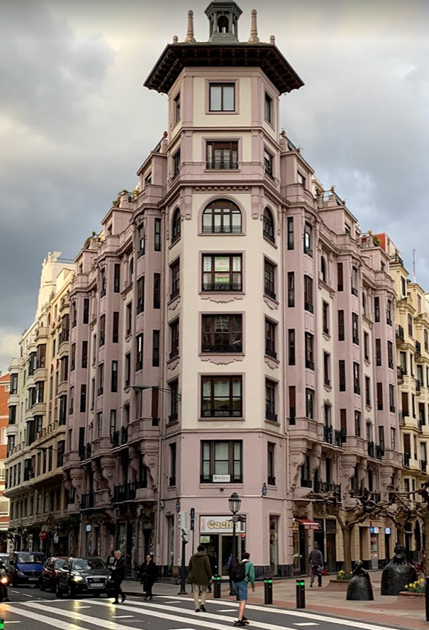 Azkuna Zentroa
[ES] Azkuna Zentroa es un antiguo almacén de vinos y aceites reconvertido en centro de ocio y cultura. Hay allí una librería, restaurantes, multicine, gimnasio, piscina, auditorio y tiendas. Pero, para mí, lo que me resulta el más interesante, son los pilares del atrio. Hay 43 columnas y cada una es diferente y representa un estilo único. Por ejemplo hay una clásica columna griega, columnas de lejano Oriente, columnas modernas etc. También, los materiales son diferentes – mármol, ladrillo, madera o bronce. La intención fue representar la diversidad de las culturas, religiones y arquitecturas de la humanidad.
[EN] Azkuna Zentroa is an old warehouse converted into a culture and leisure center. There are a library, restaurants, cinema multiplex, gym, swimming pool, auditorium and shops. However, what I found most interesting, were pillars in the atrium. There are 43 columns and each one is different, representing a unique style. For example, a classical Greek column, columns inspired by the Far East or modern pillars. They also use different materials - marble, brick, wood or bronze. The intention was to represent the diversity of cultures, religions and architectures of the world.


Ledesma
[ES] Mi lugar de trabajo estaba en un edificio de la Gran Vía, cerca de la Plaza Moyua. Trabajaba con dos compañeros y cada tarde íbamos a almorzar. Hay muchas restaurantes cerca de la Gran Vía y por lo que cada día mis compañeros me preguntaban donde quería almorzar. A menudo, íbamos a una callecita paralela a la Gran Vía – Calle Ledesma. Hay allí muchísimos bares de pintxos y restaurantes pequeños. Mi favorito estaba el 'Ledesma N°5'.
Hace dos años, cuando trabajé en Bilbao, no hablaba aún español. Pero he aprendido unas frases que usaba en el bar. Por ejemplo, 'agua natural para mí, por favor',  'yo quiero la ensalada', o 'pago con tarjeta'. Sin embargo, la frase que más utilizaba, era 'la tarta de queso y café con leche caliente, por favor' :-) 
 ¡La tarta de Ledesma N°5 es muy rica, cremosa y delicada!
He encontrado una receta de la tarta de queso "de la viña". No es la misma, pero muy similar. Me he enseñado como hacer la tarta, con una diferencia: sustituyo el azúcar por miel.
[EN] My workplace was located in a building at Gran Via, near Moyua square. I worked with two colleagues and every afternoon we faced the dilemma where to have lunch. Often we would go to a street parallel to Gran Via - Calle Ledesma. There are many pintxo bars and small restaurants. My favorite was 'Ledesma N°5'. 
Two years ago, I did not speak Spanish. But I learnt a few phrases to use in the bar. Example, 'water for me, please', 'I'd like the salad' or 'I am paying with a card'. However, the phrase I used most often was 'I'd like the cheesecake with coffee and hot milk, please' :-)
The cheesecake of Ledesma N°5' is so delicious, creamy and delicate!
I have found a recipe, not quite the same, but similar. I have learnt how to make it, with one difference: replacing sugar with honey.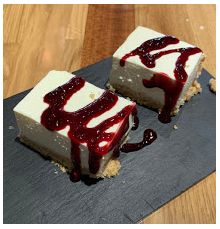 Pintxos y Txakoli
[ES] ¿Se ha dado cuenta que he usado la palabra 'pintxos' donde usted esperaría 'tapas'? Pues bien, las tapas de Bilbao se llaman pintxos y son más exquisitos que las tapas normales. Casi cada noche, después de mis paseos por Bilbao, entraba en un bar y pedía unos pintxos. Prefiero probar sabores diferentes en porciones pequeñas que tomar una cena abundante. Para mí, es mejor para la salud (y el peso…) no comer mucho por la noche.
Los pintxos a menudo tienen mariscos o pescado y por lo que me gustaba tomarlos junto con una copa del vino blanco. El vino especial de Vizcaya se llama Txakoli. Es un poco similar al Cava, pero más delicado. Me gusta mucho.
[EN] You may have noticed, that I used 'pintxos' where one would expect 'tapas'. Well, tapas of Bilbao are called pintxos. They are more exquisite than regular tapas. Almost every night, after my Bilbao walks, I would find a bar and order some pintxos. I prefer to taste different flavors in small portions rather than have one large dinner. For my health (and weight...) it is better not to eat too much at night.
Pintxos very often come with shellfish and fish and so I liked them with a glass of white wine. The special white wine of Vizcaya is called Txakoli. It is a bit similar to Cava, but is more delicate. I like it very much.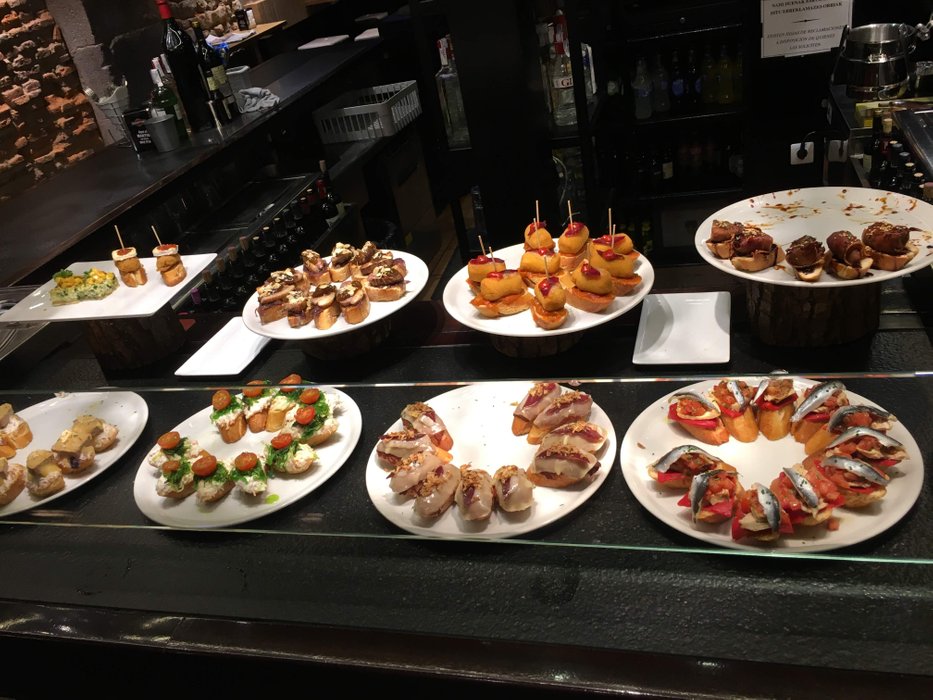 [ES] A veces comía en el bar de mi hotel. Allí, una camarera me enseñó un poco más de español. Teníamos esta conversación algunas veces:
[EN] Sometimes I ate at bar of my hotel. There, one waitress taught me some more Spanish. We had this conversation a few times:
-          [yo] Hola. Buenas noches.
-          [la camarera] Buenas noches, señor. Que desea?
-          Quiero unos pintxos y una copa de txakoli, por favor.
-          Cuales pintxos quiere?
-          Uno de cada, por favor.
-          …
-          ¡Que aproveche!
-          Muchas gracias
[EN] Well, no translation here. Time to learn the language!
[ES] ¿Como le gusta la ciudad y mis paseos por Bilbao?
[EN] How do you like the city and my Bilbao walks?