[PL] Sæby - miasteczko nad morzem w północnej Jutlandii na pewno nie jest pierwszym wyborem turystów odwiedzających Danię. Gdyby nie bliskość europejskiej drogi E45 łączącej północ Norwegii z Sycylią i port jachtowy, pewnie nie zaglądałby tam nikt. Ale dla mnie - ze względu na rodzinę - to miejsce szczególne. Odwiedzam je od ponad 20 lat.
[EN] Sæby - a little town by the sea in North Jutland, is not the first choice among tourists visiting Denmark. If not for the E45 route that connects the top of Norway with Sicily and a marina, probably no one would ever venture there. However - due to my family - it is my special place. I have been visiting it for more than 20 years now. 
Nad morzem / By the sea
[PL] Sæby - miasteczko nad morzem. Gwoli ścisłości - nad cieśniną Kattegat. Morze jest tu najważniejsze i od morza zaczniemy spacer. Sæby ma długą ale wąską plażę, zabezpieczoną falochronami. Wzdłuż plaży, niewysokim wałem na wydmie, biegnie ścieżka pieszo-rowerowa. Po drugiej stronie wału ulokowano mnóstwo domków letniskowych. Idąc od północy w stronę portu (Sæby Havn) widzimy zabudowania historycznego centrum z charakterystycznym białym kościołem.
[EN] Sæby - a town by the sea. To be exact, it is on the Kattegat straight. The sea is the most important feature here. So we will start our walk at the sea. Seaby has a long but narrow beach. It is secured by wavebreakers. Along the beach, on top of a low dune, there is a footpath. It is shared by pedestrians and cyclists. Aproaching from the north, we will sea Sæby port (Sæby Havn) and its old town, dominated by a white church.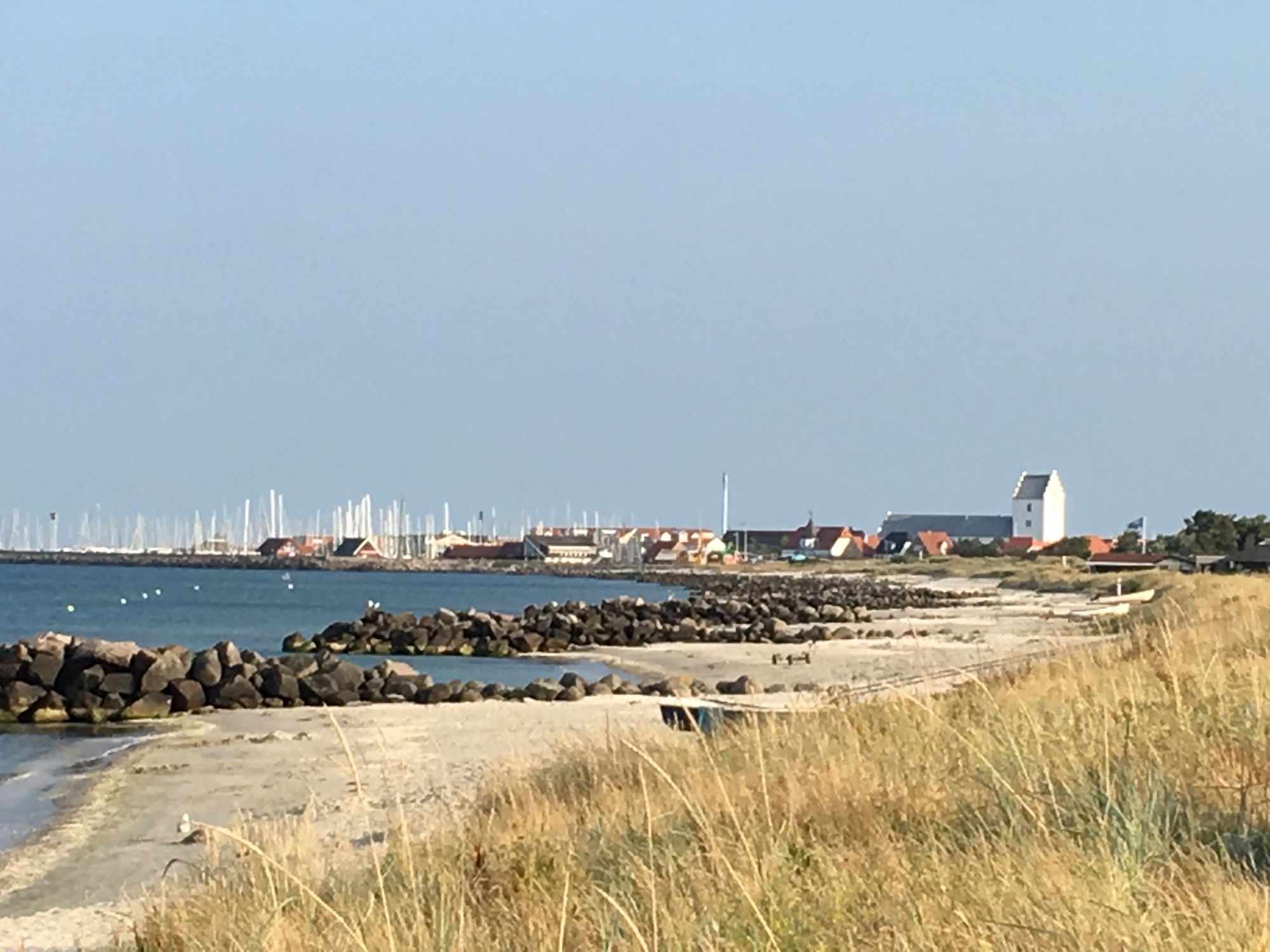 [PL] Plaża kończy się ujściem rzeczki Sæby Å. U ujścia znajduje się miejscowy klub kajakowy, a po drugiej stronie miejscowa marina. Poza sezonem żeglarskim jest tu pusto, ale latem to miejsce tętni życiem. 
[EN] The beach ends at the estuary of the Sæby river (Sæby Å). There is a shed of a local kayak club. The other side of the estuary is where Sæby marina is. Out of season this place is empty, but in the high summer it's bustling with energy.
Havn (Port)
[PL] Port (havn) to latem centrum życia w miasteczku. W marinie cumują jachty rekreacyjne oraz niewielkie łodzie rybackie. Jest lodziarnia (w czasie mojej ostatniej wizyty kupowałem lody mówiąc po polsku :-) ), wędzarnia ryb i mnóstwo małych sklepików. Centralnym punktem mariny jest biały pomnik Pani z Morza (Fruen fra Havet) - kobiety o dwóch twarzach. Pomnik nie jest historyczny - powstał w 2001r. Jest dziełem norweskiej rzeźbiarki Marit Benthe Norheim. W jego powstaniu miało udział 880 dzieci z miejscowych szkół. Nazwa nawiązuje do sztuki Henryka Ibsena "Kobieta morska", powstałej po wizycie dramatopisarza w Sæby.
[EN] The port (havn) in high summer serves as the town center. The marina hosts yachts and small fishers' boats. One can buy ice cream, smoked fish and similar port stuff. The center of the marina is marked by a white monument of Lady of the Sea (Fruen fra Havet) portraying a woman with two faces. It's not historical - built in 2001 by a Norwegian sculptor Marit Benthe Norheim. As many 880 local children contributed by providing small elements. The name is taken from Henrik Ibsen's play "Lady of the Sea", which the Norwegian playwright wrote after visiting Sæby.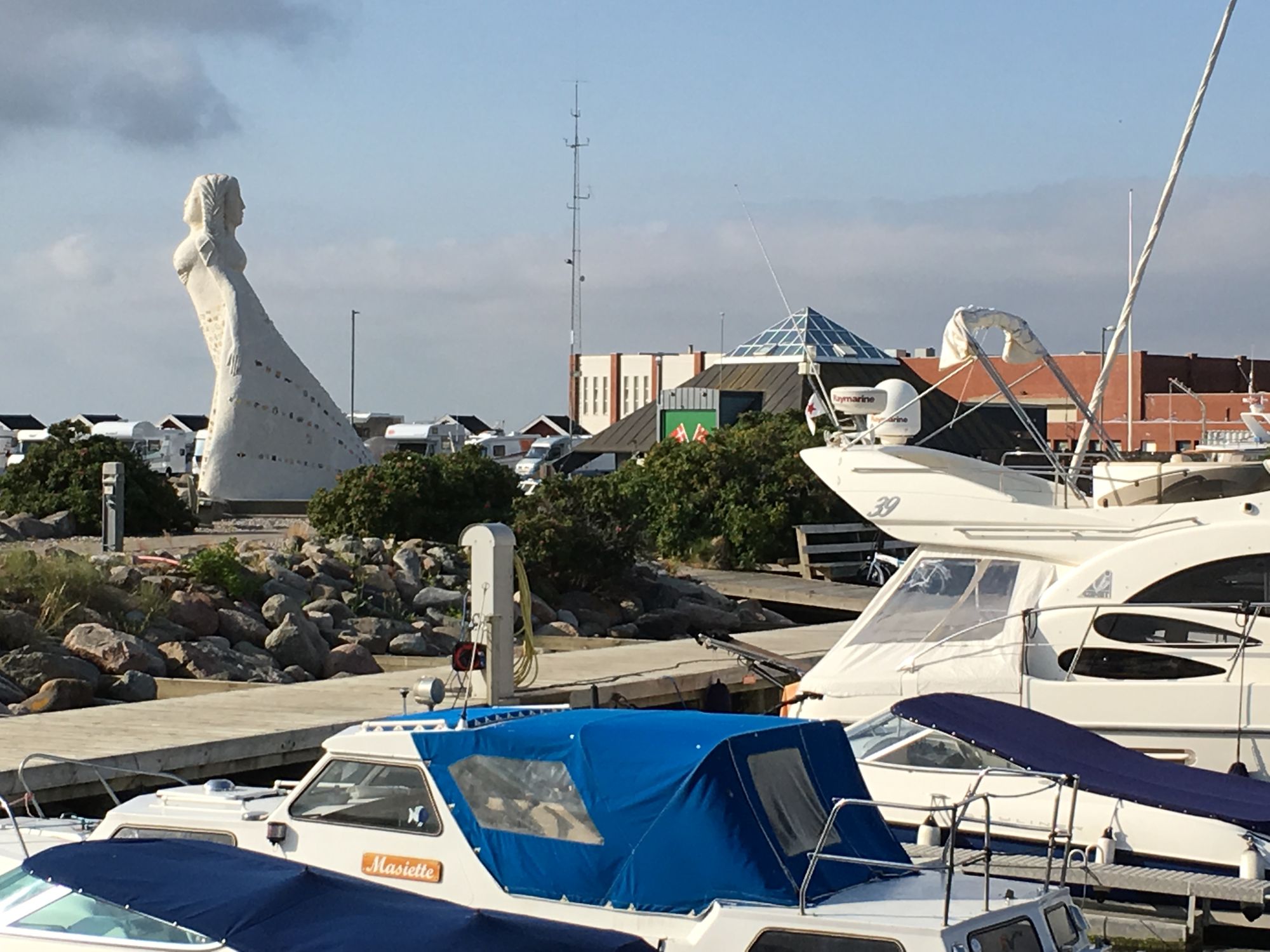 Stare miasto / Old Town
[PL] Z portu przechodzimy do pobliskiego "starego miasta". To w zasadzie jedna ulica (Algade). Nieskazitelnie biały kościół na jednym końcu i lokalne muzeum na drugim. Kościół (Skt. Mariæ Kirke) ma historię sięgającą 1460r (klasztor karmelitów). 
[EN] Leaving the port, we enter the "Old Town". It is literally one street (Algade). It starts with a church (Skt. Mariæ Kirke) and ends at a local museum. The church dates back to 1460.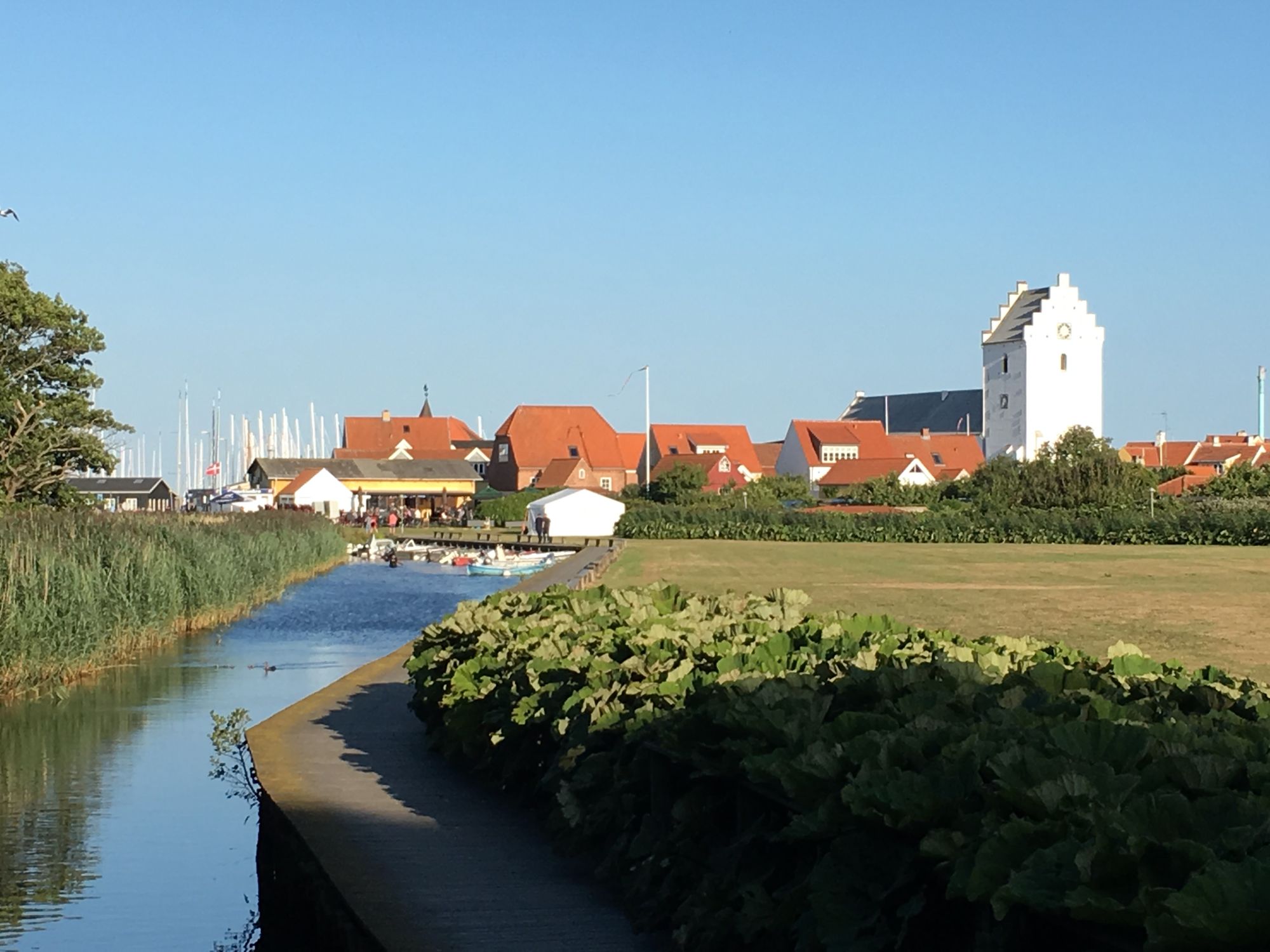 [PL] Sæby prawa miejskie (targowe) otrzymało w 1524. Aż tak starych budynków nie ma, ale bez trudu znajdziemy domy z XVIIw. Wzdłuż ulicy znajdziemy pracownię srebra i bursztynu, warsztat ceramiczny ale głównie prywatne domy mieszkalne. Duńczycy mają dziwny zwyczaj nie używania firanek czy żaluzji. Idąc więc Algade, bez trudu możemy podejrzeć codzienne życie mieszkańców. 
[EN] Sæby received its charter (market rights) in 1524. There aren't buildings that old, but one can easily find buildings dating into the XVII century. Along the main street we will find silver and amber workshop, ceramics shop and mostly private houses. The Danes have a bit strange habit of not covering their windows. Therefore, walking down the street, one can easily peak inside the houses.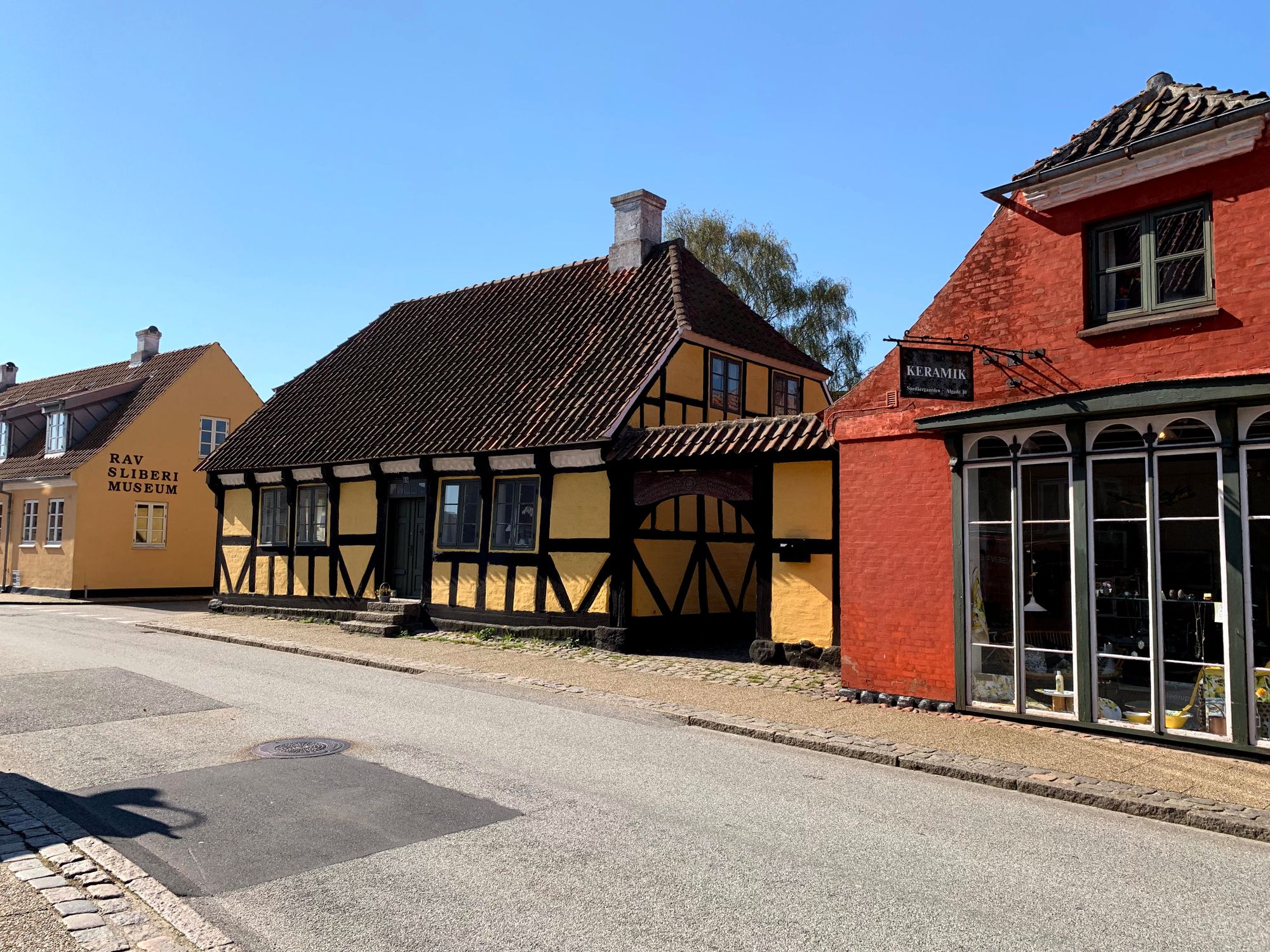 [PL] To koniec pierwszej części spaceru "Sæby - miasteczko nad morzem". W drugiej przez cmentarz (!) i rynek przejdziemy do miejscowego parku Bangsbo.
[EN] This ends the first part of "Sæby - a little town by the sea" walk. In the second part we will pass through the cemetary (!) and central square we will go to the local park Bangsbo