[PL] Sæby - miasteczko nad morzem w północnej Jutlandii na pewno nie jest pierwszym wyborem turystów odwiedzających Danię. Gdyby nie bliskość europejskiej drogi E45 łączącej północ Norwegii z Sycylią i port jachtowy, pewnie nie zaglądałby tam nikt. Ale dla mnie - ze względu na rodzinę - to miejsce szczególne. Odwiedzam je od ponad 20 lat.
W pierwszej części przeszliśmy morzem do mariny a następnie zobaczyliśmy najstarszą część miasteczka. Zapraszam na drugą część spaceru.
[EN] Sæby - a little town by the sea in North Jutland, is not the first choice among tourists visiting Denmark. If not for the E45 route that connects the top of Norway with Sicily and a marina, probably no one would ever venture there. However - due to my family - it is my special place. I have been visiting it for more than 20 years now. 
In the first part we walked down the beach to the marina and had a peek at the oldest part of the town. Join me in the second part of the walk.
Sæby Kirkegård
[PL] Na końcu ulicy Algade, wyznaczającej najstarszą część miasteczka, znajduje się niewielkie muzeum z lokalnymi pamiątkami. Tuż za nim jest niewielki skwer. Bardzo przyjemne miejsce, zawsze ocienione. Jest tam intrygujący pomnik (?) - kontrabas do połowy zakopany w ziemi. Nie udało mi się ustalić co czy kogo upamiętnia. 
[EN] At the end of Algade, the street that marks the oldest part of the town, there is a litlle local museum. Behind it, a small park is located. It is a very pleasant place, always offering shadow. There is an intriguing monument (?) - a half burried cello. I do know what or whom it is supposed to honor.
[PL/EN] EDIT 25.04.2020: Znalazłem następującą wzmiankę / I have found the following note:  (blog Thyra):
Between the main street and the river is a beautiful little park which was earlier the garden of the famous Clasens Hotel. In a corner of the park is the instrument, Thomas Andersens "Earth bass"
[PL] Teraz pójdziemy na cmentarz (Sæby Kirkegård). Cmentarz? Nie jest to miejsce do zwiedzania, ale cmentarz w Sæby jest po prostu uroczy. Niskie żywopłoty oddzielają poszczególne stanowiska. Ścieżki wysypane zawsze nienagannie równym żwirkiem. I przede wszystkim niskie nagrobki - proste kamienie wkopane w ziemię. To miejsce nie przygnębia, wręcz przeciwnie - daje poczucie spokoju.
[EN] Let's now visit the local cemetary (Sæby Kirkegård). Cemetary? It is not a tourist attraction, but the burrial place is charming. Low hedges separate tombs. Foothpaths with always immaculately even gravel. The tombs are very low, simple stones. The place is not depressing, one can feel its peacefullness.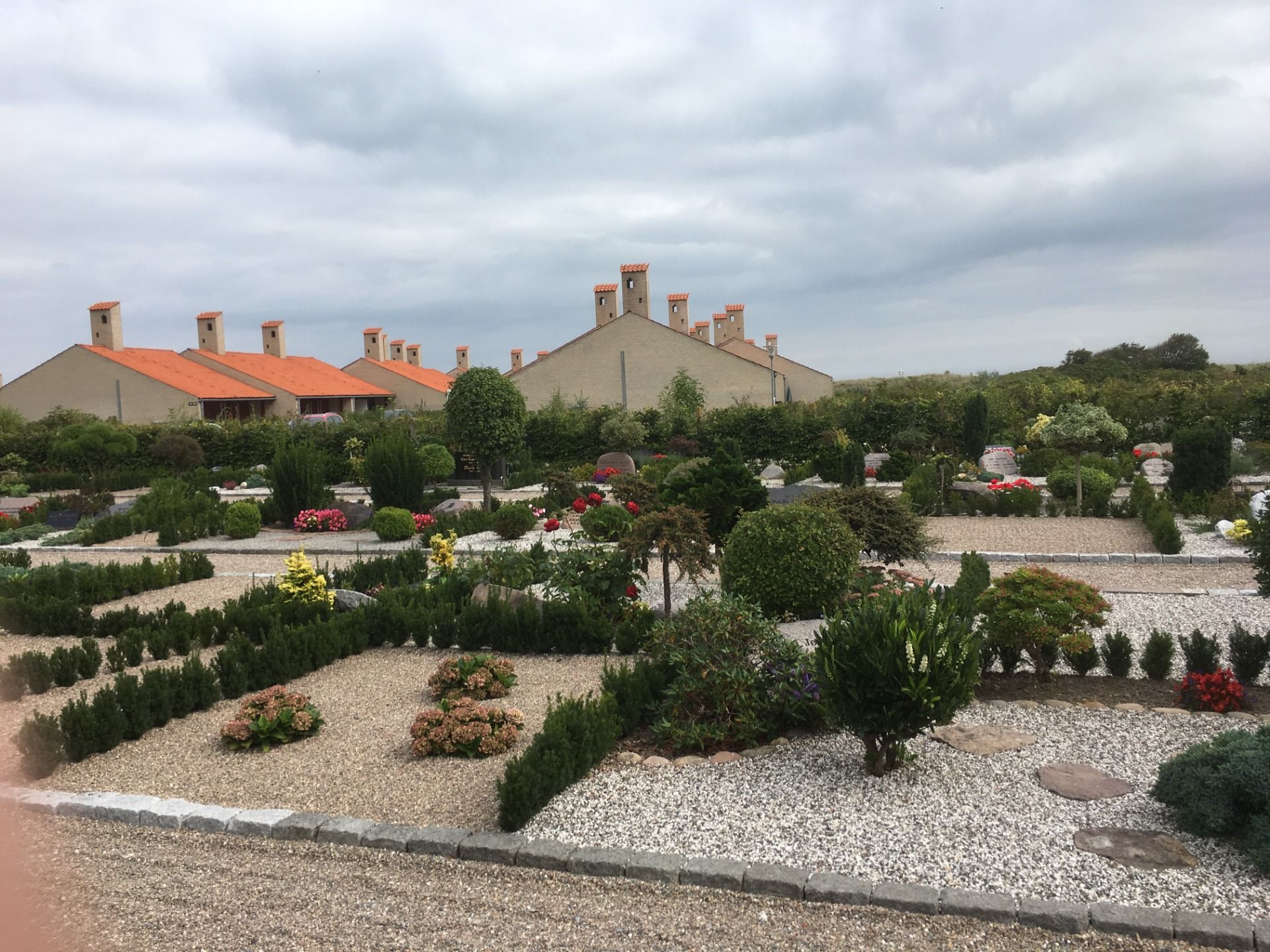 Torvet
[PL] Z cmentarza udajemy się na miejscowy rynek (Torvet). Po drodze mój ulubiony widok w miasteczku - jaz na rzece i dawny młyn (chyba).
[EN] From the cemetary we are heading to the local market square (Torvet). We will pass my favorite view in the town - a building that probably served as the local mill.
[PL] Rynek ma ciekawy kształt - trapezu. Jest miniaturowy. Tak mały, że nie ma przy nim miejsca na ratusz czy kościół - rynkowe standardy. Jest niewielki placyk z fontanną, otoczony niską zabudową - sklepy, pizzeria, bank. Latem zwykle jest zbudowana scena na wieczorne mini koncerty.
[EN] The market square is actually trapeze-shaped. It is miniature, so tiny that there is no place for a town hall or a church - which are typically found in market squares. It is a small plaza, with a fontain. It is surrounded by low buildings - shops, pizzeria, bank. In the summer there would be a temporary stage for evening concerts.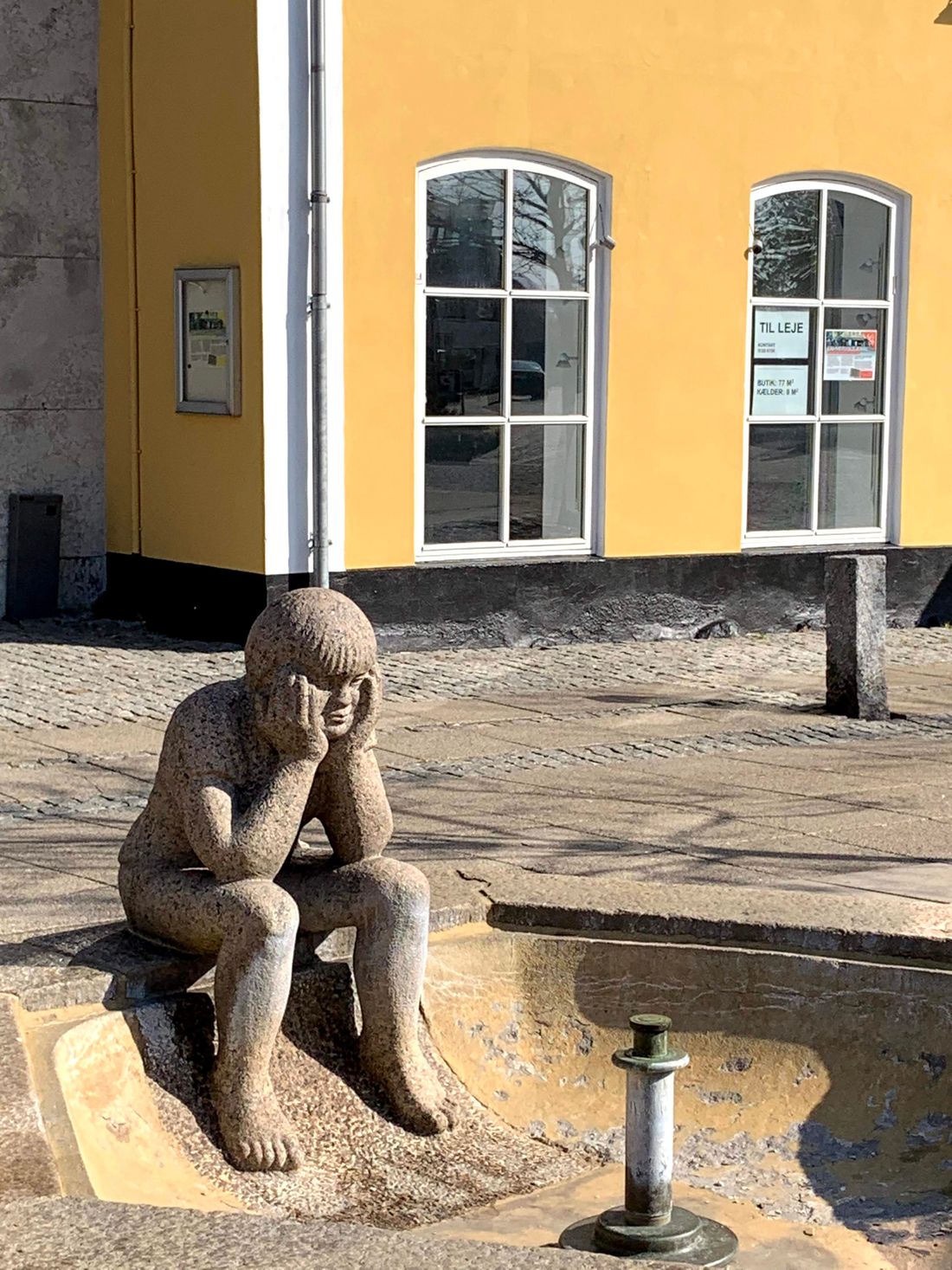 Bangsbo
[PL] Opuszczamy teraz Sæby i udajemy się do pobliskiego Bangsbo. Jest tam całkiem spory park. Część parku to w zasadzie ogród, a część to las, gdzie hasają sarny. Pośrodku znajduje się dawny dworek, obecnie służący jako muzeum (Bangsbo Kystmuseum). Cała posiadłość jest datowana na XIV wiek.
[EN] We are now leaving Sæby and heading towards nearby Bangsbo. It is a XIV century manor (now a museum - Bangsbo Kystmuseum) surrounded by a lovely park. The park is partially a garden and partially a forest with freely roaming roe deer.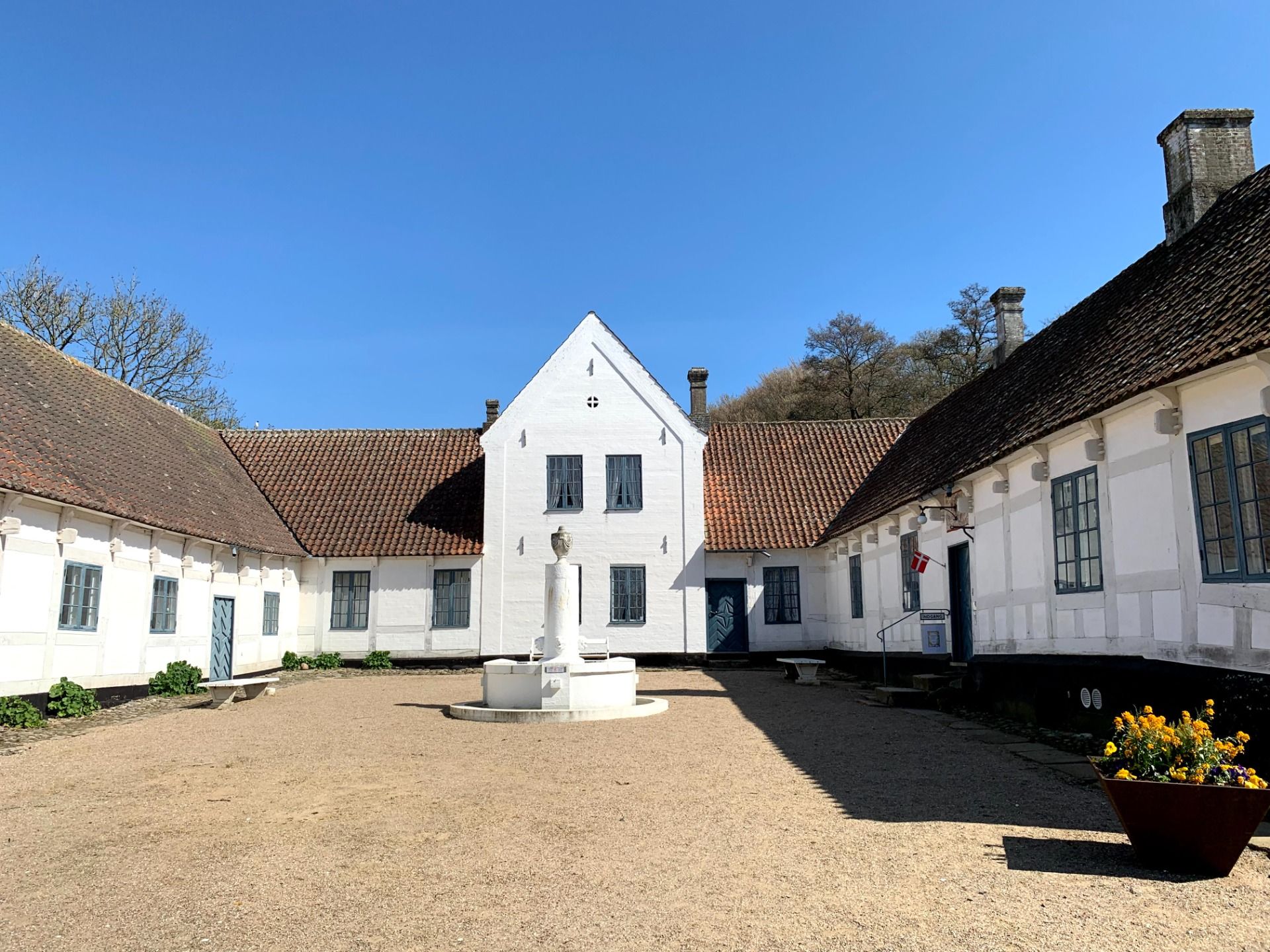 [PL] Park Bangsbo to znakomite miejsce na spacer. Trochę natury, nienaganne ścieżki, równo przystrzyżona trawa, kilka rzeźb i stanowiska z kwiatami.
[EN] Bangsbo park is wonderful place for a walk. A bit of nature, footpaths, immaculately clipped grass, places with flowers and a few sculptures.
[PL] To koniec drugiej części spaceru "Sæby - miasteczko nad morzem". Reszta Sæby to spokojne miasto z niską zabudową. Miejscowej fabryki ryb, kompleksu sportowego czy centrum handlowego nie będziemy zwiedzać :-)
[EN] This ends the second part of "Sæby - a little town by the sea" walk. The rest of Sæby is a peaceful town with low buildings. We are not going to see the local fish factory, sports complex nor its shopping center :-)